At present, Pomoly has launched a new Dweller stove product. The difference between this product and other Pomoly stoves is that Dweller is made of stainless steel. As we know, Pomoly stoves are mainly made of titanium, because they usually design and produce portable and lightweight folding stoves, which is one of their two main working lines. The other line is hot tents. But this time they launched the 304 stainless steel Dweller stove. So what are the advantages and disadvantages of this stove? Is the dweller stove worth buying?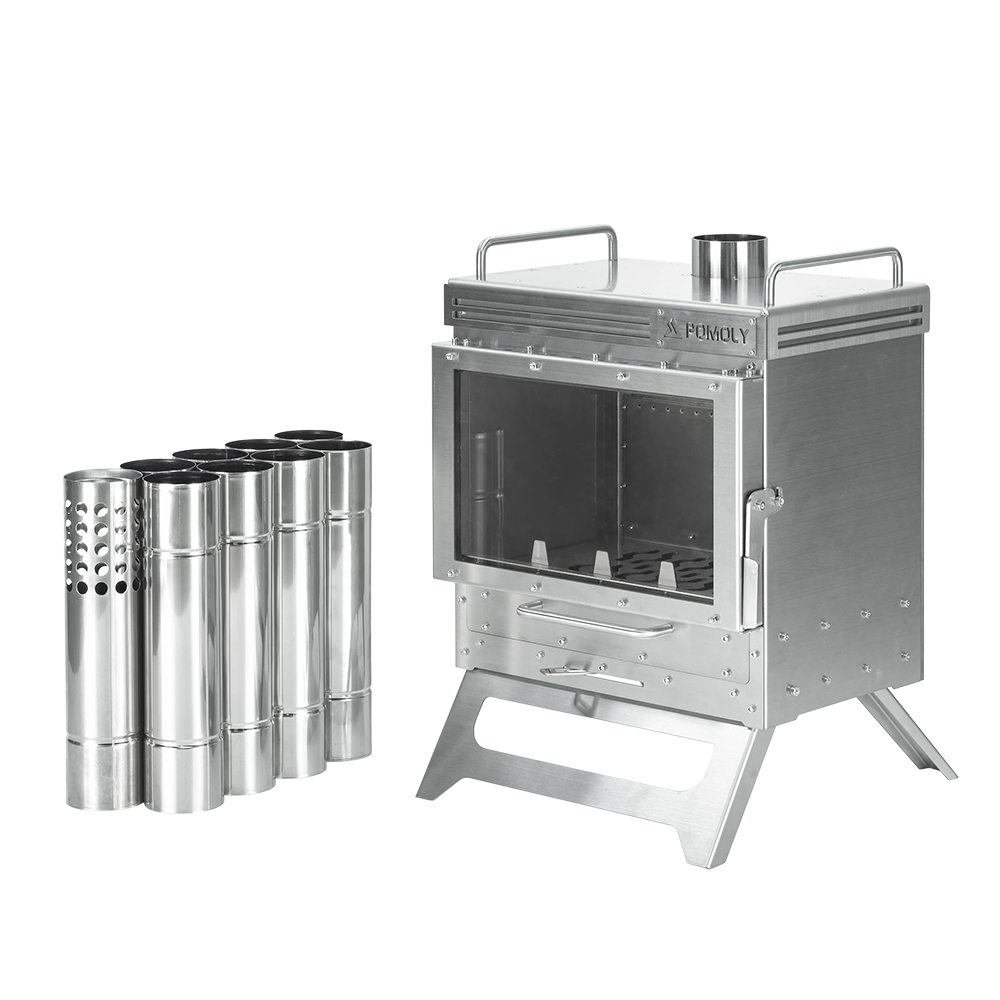 First, let's talk about the advantages of the Dweller stove:
1. Fashionable appearance. Suitable for people who like fresh products.
2. Front transparent fire-resistant large glass. The burning flame can be observed.
3.304 stainless steel material. Solid and sturdy.
4. Overall design, not folding, more durable.
5. The wood baffle increases the air at the bottom of the wood, which is conducive to full wood burning.
6. There is an ashtray that can be pulled independently
7. The bottom air valve helps second burning.
8. The stovepipes can be stored in the stove body.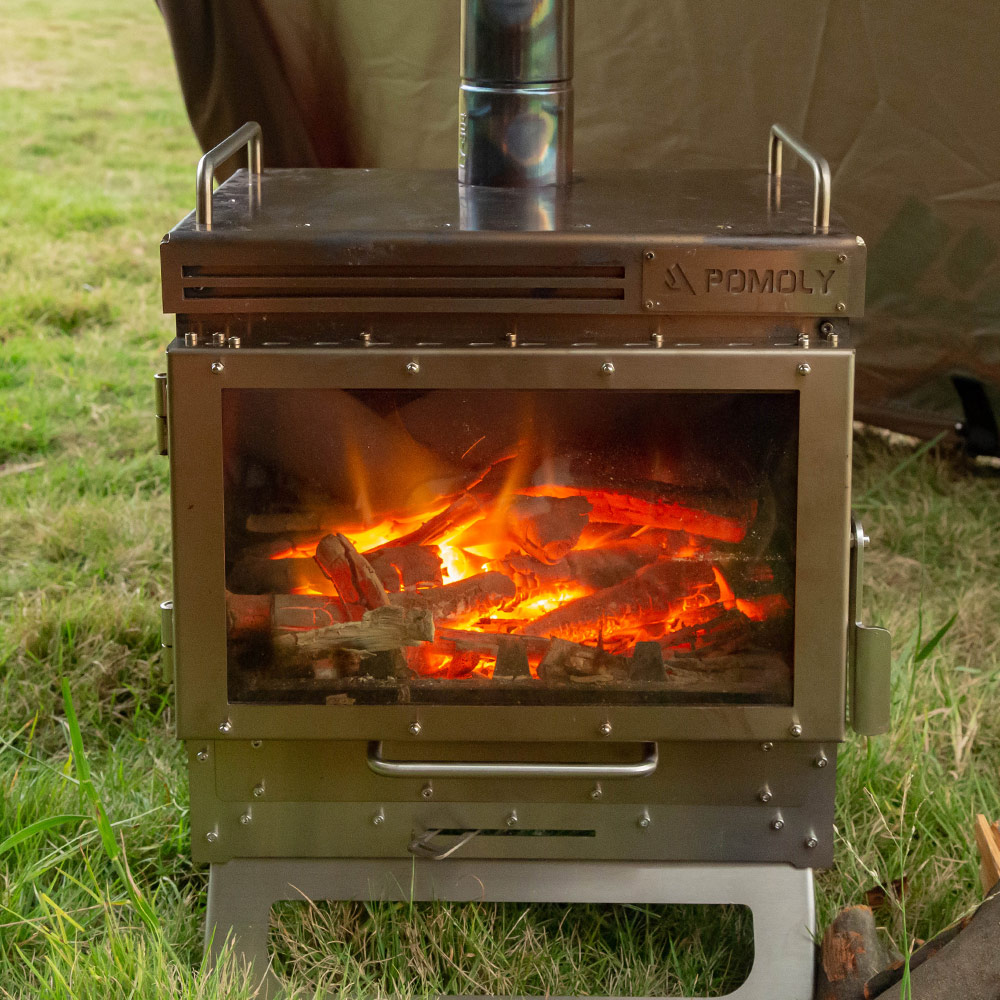 Then let's look at the disadvantages of the Dweller stove
1. The stove body is small in size and a small amount of firewood can be filled
2. The stainless steel stove weight is 22.7 lbs. It's not easy for moving.
3. The stove is not foldable and inconvenient to carry
4. The glass area is too large and easy to break.
5. The black carbon burned by firewood is easy to adhere to the glass.
6. The stove door is too large, so it is easy to burn your skin when opening the door to add firewood.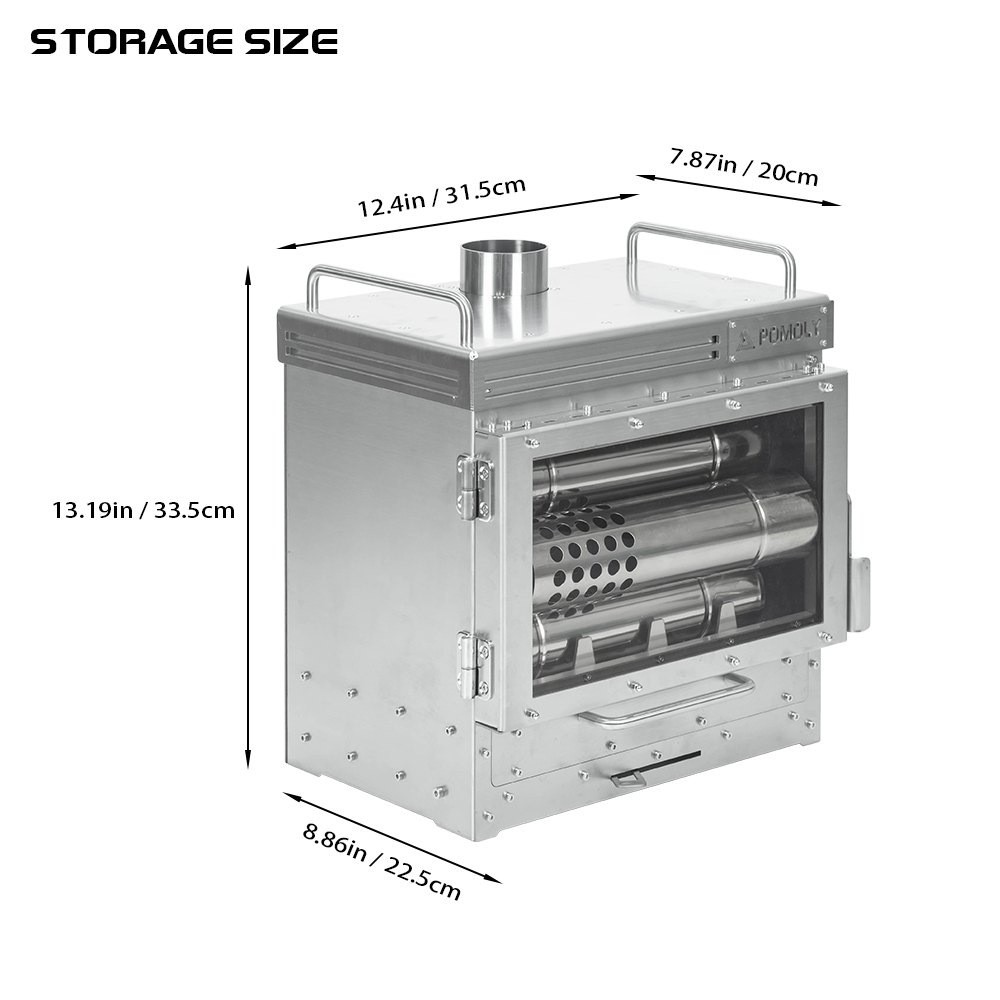 Therefore, it is obvious that this Dweller stove has both advantages and disadvantages. If you want to buy it, you need to consider these advantages and consider what disadvantages you can accept.
So is the Dweller stove worth buying?
From the perspective of stoves on the market, most stoves are in the shape of cuboids, which are suitable for internal use in tents or camping and cooking. The Dweller stove has great recognition for its appearance. This means that if you use this stove when you take photos and share them on your social media, other campers can recognize it as a Pomoly Dweller product easily. This product is made of 304 stainless steel and will not rust, which can greatly increase the service life of the product. Because there are handles on both sides on the top of the stove, the area that can be used for cooking is small. If you often need it to cook delicious food, you should choose another style of stove. If you just need it to heat your small room or car or tent, this stove is a good choice.
From the feedback of some actual buyers, this Dweller stove is very good for the detailed design, and the new design style is worth buying.
Read more: